Research
The Morrissey Lab has two interrelated long term goals. First, we want to understand how the biochemical and biophysical properties of single molecules can build complex, quantitative decision making networks in the macrophage. Second, we want to tune macrophage function to design new cancer immunotherapies. Some questions we are currently interested in: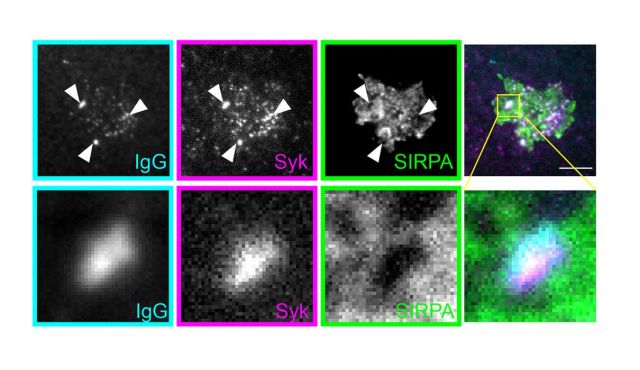 How do macrophages eat cancer cells?
Some immunotherapy strategies make macrophages phagocytose (eat) cancer cells. Can we make macrophages hungrier?  What makes cancer cells more or less vulnerable to macrophages? Why do macrophages sometimes nibble on cancer cells, and other times eat them whole?
How do macrophages measure and add signals?
Macrophages recognize and respond to pathogens and debris to keep the body free from disease. Macrophages also robustly ignore healthy tissue, to prevent autoimmunity. To do this, macrophages measure the amount or dose of each signal they encounter. 'Don't Eat Me' signals like CD47 protect healthy cells from macrophage attack, while different 'Eat Me' signals can synergize to increase the macrophage's response. We are interested in understanding how macrophages measure and integrate these signals on a molecular level.

Design principles of effective immunotherapies
Immunotherapy has been a revolution for cancer therapy, but current strategies only work in a subset of patients. Nearly all of the current immunotherapies available target one type of immune cell, T cells. T cells are very good at killing cancer cells but very poor at infiltrating solid tumors. In contrast, macrophages are specifically recruited to solid tumors, where they can promote either tumor growth or destruction. The Morrissey Lab is interested in leveraging our mechanistic understanding of macrophage signaling to re-wire, or tune macrophage behavior. We use our synthetic systems to interrogate the design parameters, like antibody spacing and density, that make effective macrophage therapies.